Channel Manager
The
Channel Manager
, accessible via
Channel Management> Channel Manager
, is where you can choose to do a portion of your channel management. This is in addition to the management that you can do through the
Site Builder
function. Unlike the
Site Builder
, the
Channel Manager
gives you an overview of all the Channels in a central location.
When you enter this section, you will be presented with a screen similar to this: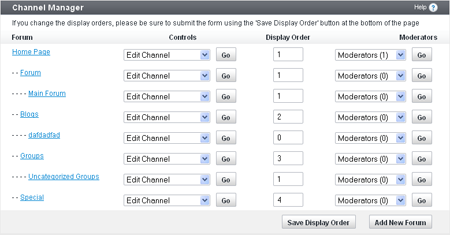 Forum
Each row in the table is a channel in the database. In the first column,
Title
, you will see the name of the forum; clicking the name will allow you to edit the forum's information.
Controls
The dropdown list in the next column of the
Channel Manager
has several options and will take you to other parts of vBulletin 5. The following is a list of the options and what they do:
Edit Forum - this takes you to a page where you can edit each of the selected channel's settings.
View Forum - this displays the channel on the front end, allowing you to see the information posted to it.
Delete Forum - this allows you to remove the channel from the database. If this channel has any sub-channels, they will also be removed.
Add Child Forum - this takes you to the Add New Forum page with this forum automatically selected as the new forum's parent.
Add Moderator - this allows you to specify a new moderator for this channel.
Add Announcement - this allows you to create a new announcement to be displayed at the top of the selected channel.
View Permissions - this displays the Channel Permissions Manager and scrolls to the selected channel.
Display Order
This controls the order in which the channels are displayed.
Moderators
The options in this dropdown list allow you to view and add moderators for a channel.
Moderators (x) – this simply displays the number of moderators for this forum. It is not a clickable link.
Add Moderators – this opens a form for you to add new moderators to the channel.